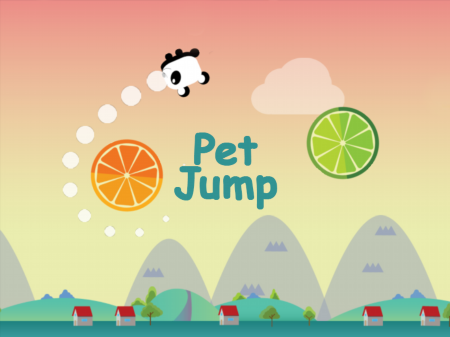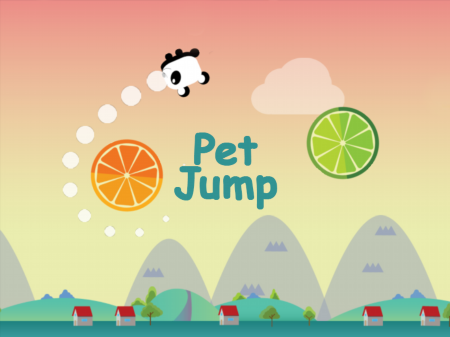 Pet Jump is a great way to pass the time and try a new type of gameplay that plugs you into its atmosphere from the very first minutes. Before you are a real jumping simulator, forcing you to closely monitor each click of the mouse. The success of your campaign will depend on how you correctly calculate the trajectory of the jump. But let's talk about everything in order.
First of all, we would like to note that the game has become one of the most discussed and popular in the world. Such popularity became possible due to the excellent level of thoughtful gameplay and at the same time - its simplicity. It is this combination of factors for any game that will always be the most effective. This is what happened with Pet Jump.
At your disposal is a panda, which in an unknown way can cling its paws to a spinning ball. The main goal of the game is to successfully jump between circles. At the same time, you cannot move, walk, run across between separate parts of a spherical object. All you can do is jump.
But it is important to remember that your character must land successfully on the next ball and if you choose the wrong flight path when you jump, the panda will fall into the abyss, and you will lose. Carefully calculate the direction of the ball rotation and compare it with the speed of rotation itself. You need to get your panda to jump from one ball and land safely on another. Only such an outcome can be considered successful.
Jumping from ball to ball, try to collect in-game coins, which are decorated in the form of gold components. The game has a store where you can buy a new character for jumping. At the same time, the most expensive characters have improved characteristics and you can jump over several objects at once. However, this may seem much more complicated than at first glance.
The game has become incredibly popular and a huge number of users are united in specialized forums sharing their successes. Some of the players tell you the secrets of jumping, while others willingly share their strategies. Although the game looks extremely simple, it is saturated with a fairly large number of features and tricks. Try and you jump between the balls and understand what is at stake.
How to play?
Game control is rendered to the graphical interface. You can interact with any menu items and settings via the basic mouse controls. The jump is carried out by clicking on the left mouse button.