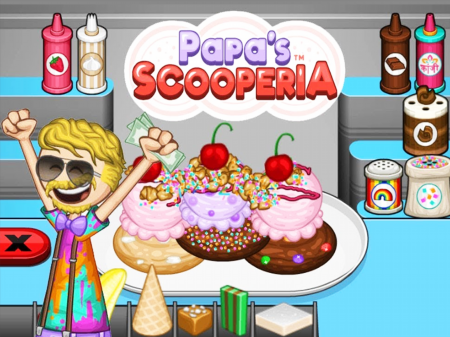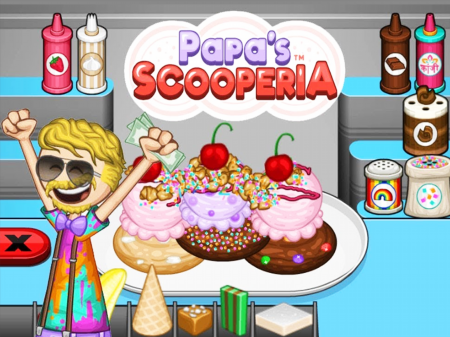 Take orders from your customers;
Get started preparing cookies, then put to the ball with ice cream on cookies;
Begin to decorate the dessert with fillers;
Complete the order;
Enjoy high rating and tips from customers.
Your character comes to New York, he has dreamed of NY for many years. A huge number of attractions, beautiful and world-famous views and an incredible number of stunning historical locations - this city is a tourist paradise for anyone. But the day is coming to the end, and now the most important task is to determine the place where you can stay for a night. However, it turns out that to find a room in a hotel is not so easy.
After a long search, you find a place to stay of extremely dubious quality. But since the choice is not great, you decide to stay for a night. It seems to be the most rational solution as you don't have the energy to keep looking after a very busy day.
Maitre d ' gives you a dilapidated room that hasn't been repaired in years, where you try to relax. However, in the morning you find that you have been deceived and robbed. All the accumulated funds and your personal belongings were stolen by a dishonest fraud and you were left with nothing in a completely foreign city. It turned out that the Maitre d ' is a common thief and fraudster, and the place where you stayed is not a hotel. This is an old building that needs renovation, and there will be a store soon that will sell the most delicious ice cream in the "Big Apple".
First day at Papa's Scooperia
Meeting with the owner of the building, which turned out to be the world-famous master of goodies - Papa Louie, you tell a heartwarming story and share your upset feelings. Papa decides to help you and offers to work in a new restaurant. Since you don't have much of a choice, and finding a job in the most demanded city in the world is incredibly difficult, you accept help and look forward to your first day of a new career.
The essence of your work is care, perseverance and a good level of customer service. Who doesn't love sweets, especially when they are so beautiful and attractive? You will cook goodies for many guests of your restaurant. Take orders for the preparation of confectionery masterpieces and cook delicious types of ice cream for customers.
It is important to remember that each new customer is a unique person, who makes almost a unique order, and you will need to work hard in order to satisfy the guests of Papa's Scooperia. Combine ingredients, implement the requirements of the order precisely and get the highest reward for service. Do not forget that the higher score of your customers - the more tips you get. Money is the main reason why you are here.
Built-in games and interesting quests
It is important to rest properly after each busy day, so as not to burn out and be as productive as possible the next day. You have the opportunity to visit the exciting Broadway shows, which are presented in this magnificent and magical city. Every new day you have the opportunity to take part in a raffle of useful prizes, to purchase new clothes for the character, and get new ingredients for the best ice cream in the world.
Popularity and new customers
If customers like your level of service, then you need to get ready for a large number of new people. The rumor that some of the tourists are preparing great sweets will spread throughout New York, and you will face new challenges. More customers, more responsibility, more fame, but also more money. Who knows - how this story will end.