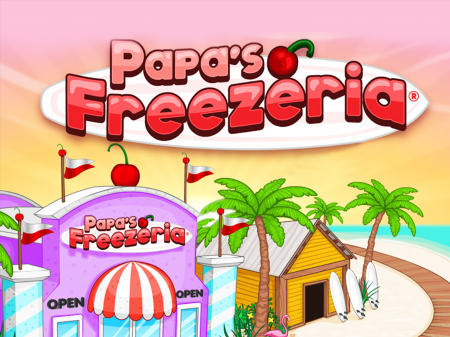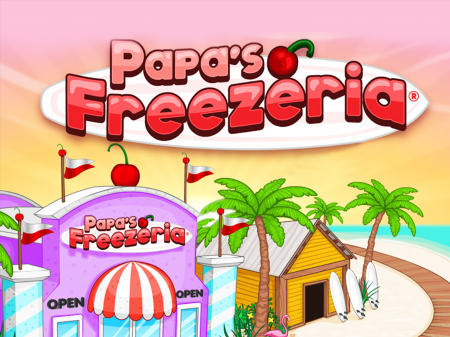 Take different orders from your customers;
Put the fillers of perfect consistency in the cocktails;
Mix cocktails in accordance with the requirements of the order;
Give out the dessert and be proud of the new satisfied customer!
You control a character, who found his dream job for the summer. Judge for yourself: the distance from the civilized world, few people, paradise beaches of Calypso island, the bright sun and excellent weather all year round. What could be better? The best one can only be a place in the restaurant of wonderful confectionery goodies from the world-famous master of desserts Papa Louie, who has been famous for a non-trivial approach to gourmet dishes.
Arriving at Calypso, you go to the candy store, where you take a short training course of and try to prepare your first desserts. But it was not as cloudless as it seemed from the beginning. The cozy remote island was not deserted. A large number of tourists, who suffer from hot weather and want to get your delicious and cool cocktails. Unfortunately, Papa Louie also leaves the island, and you stay completely alone with a huge number of future adventures and an endless series of challenges.
Start working in Papa's Freezeria
From the very first customers you understand that you work at a serious place. You have to be very focused and attentive to details and get a lot of practice, because you are still only a beginner in this business and you are still very, very far from the master. Tasks and orders become more complicated and more sophisticated with each new customer. On the one hand, it is more difficult to serve a large number of sweet lovers, and on the other hand - it is not an easy way to fame, and it needs to be passed. You came here to earn money, but got an excellent incentive to become the best cook of the island, and it's definitely worth the effort. Challenge was posed - let's get started!
Each client orders a unique set of ingredients, which are combined in a composition of exquisite taste. Your task will be the correct mixing of all components in order to get an excellent dessert, and people will come back to repeat this delicious experience. The return of people is an integral part of the success of your venture, because what could be better than a review, which is based on the phrase "there are such delicious cocktails that you want to go back again."
All components of cocktails are perfectly combined with each other, but do not forget to take into account the size of portions and different elements of the recipe, because even the slightest deviation from the order directly affects the assessment from customers. The higher score for a particular order, the higher overall rating of your restaurant and you, as you are the main maestro of confectionery delights. It is worth keeping that in mind! Every order is important!
By the way, there is always the possibility that you will not only overdo the ingredients, or forget to add some to the dessert, but you can also break the perfect balance of mixing, which can directly affect the overall experience of taste. Watch for every detail and take your kitchen not as an ordinary place for making delicious cocktails, but as a forge of real masterpieces, each of which gradually brings you closer to your goal.
Among other things, do not forget that high ratings that customers give to your orders affect not only the overall rating of Papa's Freezeria, but also the number of tips that visitors leave. This factor is incredibly important, given the fact that initially you came to earn some money. However, you would also like to become a great master of pastry masterpieces in the world. Try your luck and your own skills as a master of goodies. Attract more customers and remember - the more visitors gather every morning at the door of your place, the faster you will achieve your own goal.