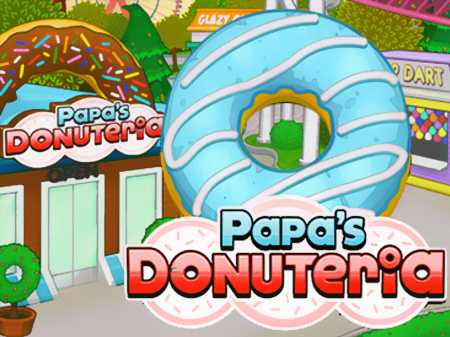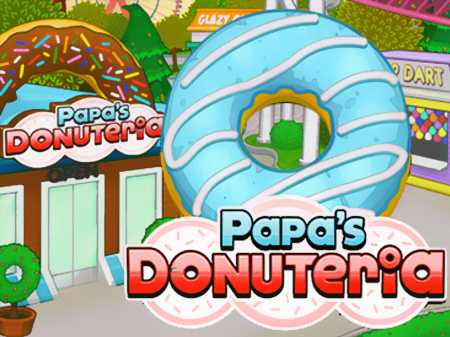 Take orders for the best donuts in the city;
Get started to make pieces of dough according to the requirements of the order;
Keep an eye on the perfect cooking time;
Make donuts with a special glaze and add fillers;
Enjoy your order.
Who can go to another city to get a job in Luna Park service staff only to get privileged access to your favorite attraction? Only our hero can go for it in the new game Papa's Donuteria! But what was the disappointment, when during the first race it became clear that the beloved and long-awaited roller coaster broke and was queued for repair until next year? The motivation to stay in this place is completely exhausted, and how can you wait so long - until next year?
He comes to the rescue from a completely unexpected place. The world-famous master of culinary masterpieces and the owner of one of the restaurants of Papa Louie offers you a place of work in order to kill time and make money. Well, this is a great alternative to returning home and die-away waiting for repair.
Doughnuts, doughnuts and more doughnuts!
Uniform, apron, kitchen and the sea of positive expectations from the new venture! Here is what awaits you on the first day of work. After a short training, you start to serve your very first customer. There is nothing complicated, just cooking the perfect donuts that meet the strict requirements of the customers. It is important to remember that your guest waits not for a masterpiece of cooking from you, but the exact embodiment of his favorite sweets. Even the slightest deviation from the order details will lead to a decrease in the overall rating of the restaurant.
Choose all the ingredients in the correct order and quantity. Among other things, monitor the quality of the dough and the state of its readiness. It is extremely important to take into account the exact cooking time, otherwise you risk getting to a misunderstanding of the person. Who likes to eat burnt or raw donuts? For this reason, keep an eye on all stages of cooking.
Among other things, do not forget that the filling should be laid out evenly and it is not only a matter of visualization, but also taste preferences. Donuts are not a simple sandwich. Here every detail is important, and even attention to the smallest details can have a positive impact on the assessment of your customer.
More popularity means more money!
The faster you master the tricky way of making perfect donuts, the faster a large number of Papa's Donuteria customers will start flowing. If you first focus on the preparation of ideal goodies for a few customers, then their number will increase significantly over time, and you will have to learn how to cope with a large number of orders. But the quality of donuts should always be at the highest level either.
But never forget about the rest, because if you constantly work even at the most interesting work, there is a great risk to simply burn out and lose interest in the once beloved business. It is for this reason that your hero every evening, after closing the restaurant, goes to have fun. Participate in various competitions and solve numerous puzzles.
All the proposed tasks are accompanied by valuable prizes that can be converted into additional tips and more tangible items such as new outfits for your character or interior items for Papa's Donuteria. Please your eye and surprise your regular customers. You should know that if you do everything right, then you are sure to get regular customers, who will idolize your works of confectionery art!
Go through this exciting adventure and find out - what awaits you at the end of this wonderful year. You will not just mindlessly kill time, waiting for your favorite entertainment, but get a chance to become the best in your business and become famous throughout the district as a real guru for the preparation of wonderful donuts. Who knows, maybe you will find a new career and a favorite thing of a lifetime. And maybe surpass the skill of Papa Louie, who will be immensely proud of such a student as you!