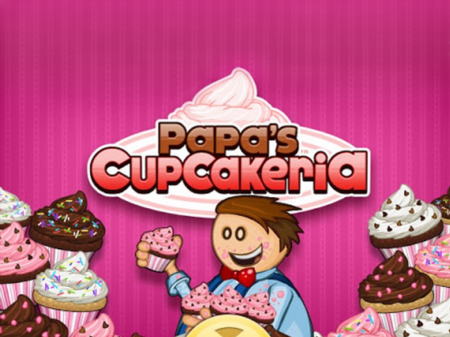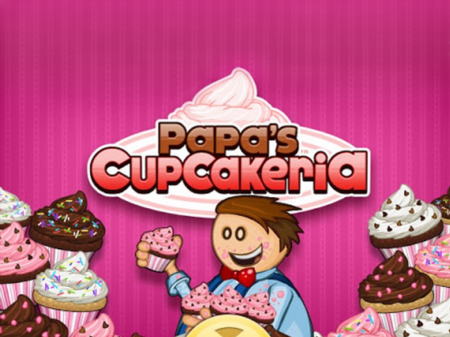 Take your customers' orders;
Cook cupcakes, given all the order's details;
Put the product to the oven to cook perfect delicacy;
Add a filler and enjoy one more satisfied visitor's happiness;
So, calculate your tips!
The next game is an exciting famous Papa Louie series, being the real culinary excellence epitome. So, the game provides the character, who got into rather annoying accident and failed to pay damages due to money absent. However, kind Papa Louie proposed to help the poor fellow and agreed to pay his debt. Instead, he offered the poor driver to work in his bakery, engaged in making delicious cupcakes. Papa Louie was just going to his new restaurant in order to open it.
Will you be able to cope with the task and how easy it will be given you the craft of excellent confectioner - these are the main questions of the day. Get to work immediately and try to please every client, because not only your honor, but also the honor of a new institution that claims to be the best in the city is at stake. That was a fortunate coincidence that Papa Louie was just going to his new restaurant in order to open it.
Getting started at Papa's CupCakeria
First of all, you have to learn certain delicious confectionery cooking basics. Here it's rather important to take into account every small detail, including from dough cooking time to cream appliance method to each cupcake. Be sure to note there is a risk to spoil a cake if your hand twitches just a little. But there is not enough time to cook new cupcake. Please remember that all customers wish to be provided with perfect cupcakes, but not everyone is ready to wait for it forever. On this depends the final assessment of your work. So, this is the main restaurant business feature, which success depends on multiple factors.
That's why be sure to take into account all these factors during the serving phase, including ingredients amount as well as a paper cup choice. It's better to always follow each visitor's preferences, for example if a visitor choses a glass with roses printing, be sure to serve the cupcake in such a glass, but not in another one. Otherwise there is a risk to see frustrated visitor's face instead of additional «tips».
By the way tipping is an incredibly important game part since every extra tip will bring you closer to your goal achievement, namely to work off your dept, provided by kind Papa Louie. It worth mentioning your job is quite interesting which is a great reason to master a completely new profession for yourself. Eventually, no one is aware of this story result. Perhaps you are creating a new stage in your life right now.
High-quality rest is high performance basis
You will have both the profit calculation and overall service assessment as well as a great chance to rest from cooking delicious cupcakes upon the working day termination. Play one of multiple mini-games in which you'll be able to win tips, additional bonuses, ingredients for cooking, etc. This will significantly expand your functionality as a Master Chef and will contribute to your life diversification in a restaurant.
You'll come across competitive mini-games, within which you have to both defeat other participants as well as exceed their results in addition to the quest tasks. This will foster your adventurism spirit and remind that you are striving to become the best city's cooker, but not just working off your dept. In addition, the awards can be completely exciting - from a stylish shirt that will highlight your unique taste and sophisticated style to with bright green wallpaper in the restaurant, which may be used to decorate Papa's CupCakeria, for example.
But let's come back to cooking the world's best cupcakes. You will master new skills better each new working day. Besides each city's resident will tell about new confectionary guru. This will result in active customers number increase. Everyone will strive to test your perfect cupcakes.
Are you ready to cope with high customers flows? This is an excellent reason to adequately assess your both ability and skills in a stressful situation. These are two absolutely different situations when there is just one customer in the waiting room, leisurely looking through the news in his smartphone and the situation when the hall is full of customers, striving to taste your perfect cupcakes asap.
Your main goal is to appropriately conduct the restaurant business as well as avoid harming Papa's CupCakeria reputation. So, the whole campaign may be deemed fully successful, if you suddenly realize that you have got completely new passion that will force you to change your profession. Anyway, you will find out the answer once reaching the end of the current adventure, which will be incredibly exciting!