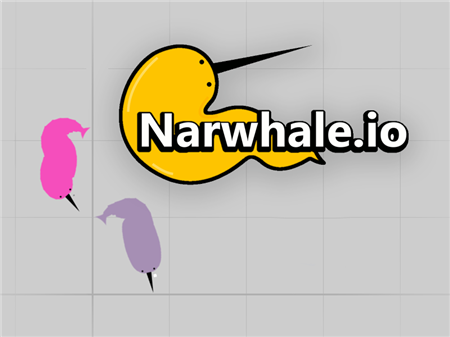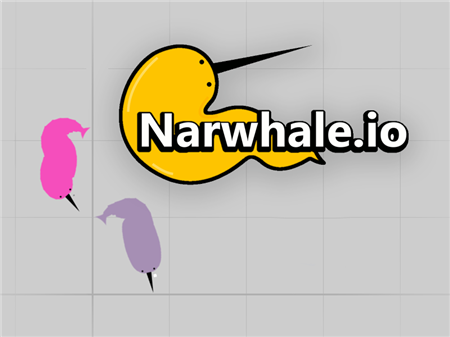 Narwhale.io is a classic example of what you need to act as quickly and quickly as possible, otherwise, you will lose. Actions unfold on an open map, which you will share with a large number of other players. You control a narwhal who is armed with a sharp horn protruding as his protector. Your main goal is to survive in this harsh environment and show everyone who is the strongest and who needs to beware.
The feature of the game is built around constant confrontation and fights with rivals. You do not have to collect resources or mess with quests. All you need is sleight of hand, speed of decision-making, and your blade-sharp horn. Attack opponents and do not let yourself be fooled in a fight.
Your narwhal easily survives any blows to the head, but the body is an extremely weak spot. For this reason, maneuver as often as possible and attack opponents only in the sides and tail. The best way to get an opponent out of battle is to cut him in half with his horn. This will surely moderate the ardor of the attacker and throw him from the top of the leadership position.
In this game, you need to think not strategically. You simply will not be given time to prioritize the fight and choose the desired goal. The best tool for victory is the correct choice of position on the battlefield and the ability to dodge the attack as quickly as possible. Try not to get into the thick of fights, especially in which several players participate at once. This greatly increases the chance of your defeat, because you can become a corny victim of a random attack.
Each opponent you kill will give you not only bonus points but also experience, which is combined with an improvement in the characteristics of your character. Carry out successful attacks and get more power, more speed, and more stamina. Attack unexpectedly and try not to act ingenuously. Luck plays a big role, but far from fundamental. It all depends on your hands and experience. The more you play, the easier it will be for you to win. Become a true master of the sea and bring fear to all the inhabitants of these dark waters.
How to play?
Character control can be carried out both on the keyboard and on the organs of the mouse. Indicate the direction of your narwhal with the mouse cursor, and you can use temporary acceleration both from the left button of the manipulator and through the Space button on the keyboard.